If you have any ideas to help develop The Inkwinks Brand, or have any other questions, then please fill out the form below, and we will respond within 24 hours.
Thank you!
Copyright: Inkwinks Publications Ltd 2014 - 2019
All rights reserved

Company No: 9176665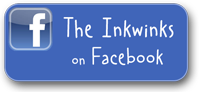 Visit The Inkwinks Website: www.inkwinks.co.uk



Submissions:
We do not accept manuscripts
Thank you!
Company Reg:
Inkwinks Publications Ltd
18 Little How
St Ives
Cambridgeshire
United Kingdom
PE27 6HU

Company No: 9176665